Calendar
We invite you to attend any of the upcoming gallery shows, receptions, and talks listed. Receive email notices of gallery openings by subscribing to our announcement list.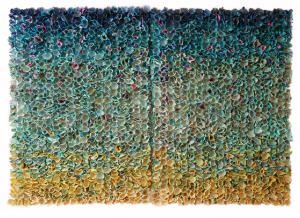 Robinson works with water and fiber to create handmade paper and fire and sand to make glass. These elements also inspire the shapes and compositions within her work. In this way, the work is not only about nature, it is nature. She uses yucca, flax, abaca, kozo and gampi. With the abundant loss of the organic in our modern urban environments, Robinson's work softens and warms our angled surroundings.
preview show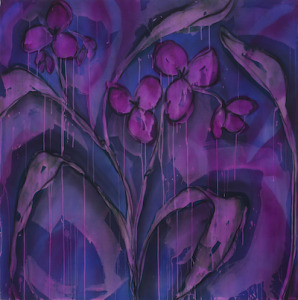 Opening reception on Saturday, January 5 from 4 to 7pm
Preview Happy Hour + Artist Talk Thursday, January 3rd at 6pm
Working with ink on kozo paper, Thomas explores the beauty of decay. She has found a nuanced strength present in deterioration and the quiet moments that result from its study. It is this dynamic of strength and unexpected calm that dominate Thomas' large scale works.
Eliza Thomas, who lives and works in Austin, received her B.A. from Barnard College and attended the School of Visual Arts and the Parsons School of Design in New York. In addition to Wally Workman Gallery, Thomas' artwork has been shown in solo and group exhibitions across the country. Her work is represented in public and private collections.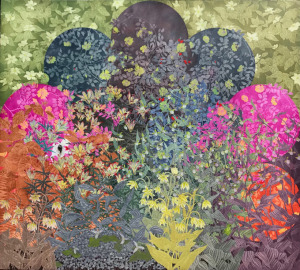 Opening reception on Saturday, January 19 from 4 to 7pm
In our upstairs Gallery in conjunction with PrintAustin 2019
Julia Lucey revers nature. With arches and a pre-raphaelite attention to detail in this body of work, Lucey presents nature as sacred. Her process of collaging aquatint etchings allows each plant or animal to be meticulously depicted and elevated to the symbolic. She has taken inspiration from fables and woven them into what otherwise could be seen as solely scientific native plant etchings, emphasizing the wonder embedded in the natural.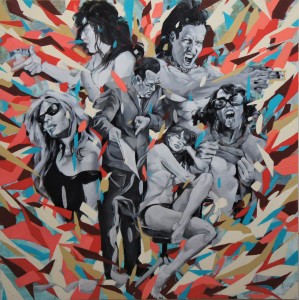 Opening reception on Saturday, February 2 from 4 to 7pm
Artist Talk + Happy Hour Thursday, January 31st at 6pm
In this body of work, Shults focuses on the dynamic between the patriarchy and feminism. His figures are represented as idealized, revered, empowered, feared: an exploration into our current culture as a whole as well as the artist's role as a white male figurative painter within it.