Calendar
We invite you to attend any of the upcoming gallery shows, receptions, and talks listed. Receive email notices of gallery openings by subscribing to our announcement list.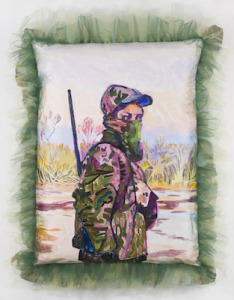 Chapin's large scale works reference her Southern upbringing and the conflicted nostalgia surrounding the gentility and graciousness of the South. Chapin views much of this culture as made possible largely by graceless and dark systems. This obfuscation of ugliness and the worship of appearance is the theme that runs throughout her new body of work. Using the idea of lace as a metaphor for this experience and referencing historical religious painting, she explores beauty as safety for both the oppressed and the worshiped and idealized. Halos of fabric, acrylic and neon surround Chapin's paintings. Some of the pieces are stuffed like giant decorative pillows, epitomizing the comfort of beauty as well as referencing the trophy room. With these works, Chapin has exposed Southern portraiture as a pre-Instagram status symbol and examines the pleasure and willful ignorance derived within it.
A native of Mississippi, Chapin was trained at Parsons School of Design, Cleveland Institute of Art and The University of Virginia. She lives and maintains a studio in Austin, Texas.
Read The Austin Chronicle review of the show here.
preview show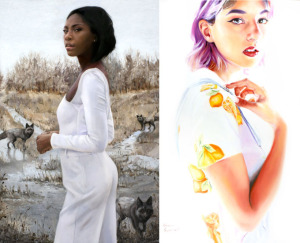 Opening reception on Saturday, March 30 from 4 to 7pm
In our upstairs Gallery
Both accomplished realist painters in technique, their ethereally illuminated subjects occupy a space both of this world and a bit beyond. Shane Scribner focuses on abstraction within the figure using color and Sara Scribner creates an abstraction of space and time by infusing the symbolism in each of her works with a sense of magic.
Sara and Shane Scribner met at The Academy of Art University in San Francisco, CA and married shortly thereafter. Both full-time painters, they share a home studio in Enid, Oklahoma and exhibit their work nationwide.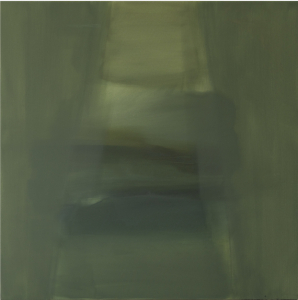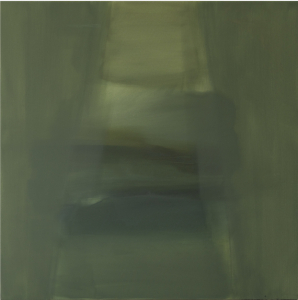 Mallory Page: A Ponderous Weight (Why did I not discover before that it was nothing?)
April 6-28, 2019
Opening reception on Saturday, April 6 from 4 to 7pm
Artist Talk + Happy Hour Thursday, April 4th at 6pm
This exhibition features a new body of large-scale, abstract works and is the second installation of Page's several part series, A Ponderous Weight, an interpretation of Kate Chopin's The Awakening. In the gallery's front room, a site specific installation, Initiation Room, interweaves canvas panels behind resin busts of Venus to cover walls, pool onto the floor, and envelop viewers in a sense of space. The second room of the show will feature Page's stretched canvases. Here, she draws attention to concepts such as opposition and transformation, a meditation of sorts on the antagonistic impulses that define Chopin's heroine as well as on the inner conflict she experiences while moving from a woman rooted in Creole society toward a life defined by sensuality and candor. Page also imagines here another more mystical transition, in which the female figure emerges from the gulf as Aphrodite, the ancient Greek goddess of love, beauty, pleasure, and procreation who was born from the sea. Recalling the slow movement of water in the Gulf, the works in this show explore lightness, transparency, motion and difference.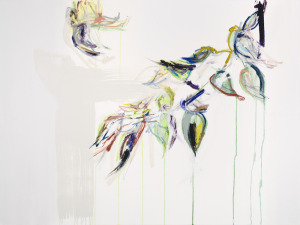 Opening reception on Saturday, May 4 from 4 to 7pm
Artist Talk + Happy Hour Thursday, May 2nd at 6pm
Nature has inspired much of local painter Diana Greenberg's fifth show at the gallery, botanical forms appearing in many of these abstract works. Prisms of color break through solemn gray to create a feeling of light and hope, joy and serenity. A series of atmospheric paintings are also included, each a grid representative of a place or time.