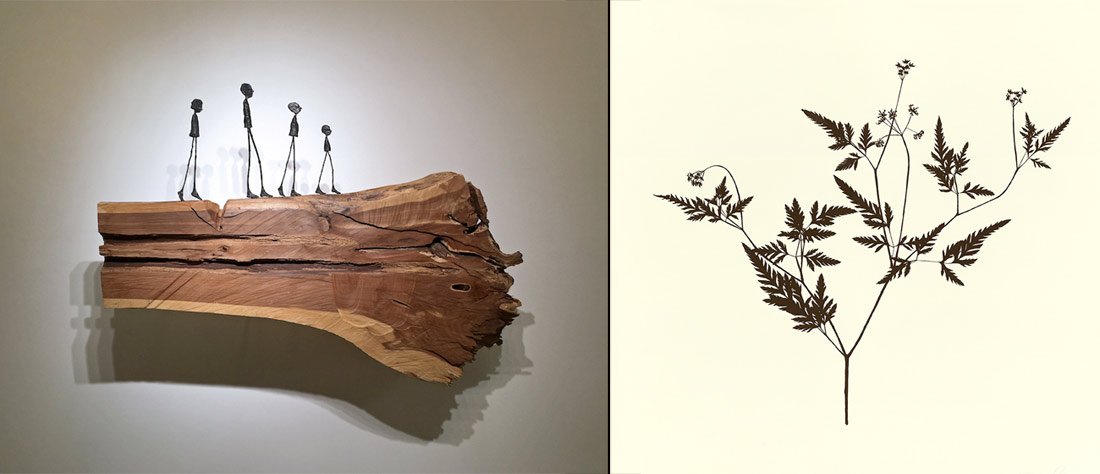 Mia Carameros & Holly Wilson Group Show | Shadows ·
October 6-27, 2018
Carameros and Wilson's work incorporates the idea of the shadow both literally and figuratively. Carameros creates her botanical pieces from the shadows of found foliage that she presses and preserves. These 'shadows' echo the complexities and beauty found in creation. Wilson's sculptures also appear as silhouettes, each part of a narrative that cast their own shadows. These shadows are a metaphor for the secrets unspoken, sometimes benign and sometimes nefarious.
Take a virtual tour of the show here.
Established in 1980 and located in a 100 year old historic house in Austins art district, the Wally Workman Gallery specializes in emerging and collected talent. The gallery has two stories of exhibition space where one can view the 50+ artists currently represented, including the contemporary talents of Will Klemm, Joyce Howell, and Mallory Page as well as the figurative work of Tracey Harris and Ian Shults.
Parking is available in the front lot as well as the lot behind the gallery, accessed from the alley off Blanco and Harthan St. Unrestricted street parking is available on Blanco St. and parking is allowed after 7pm on Harthan St.