Julie Maren
click on any image for details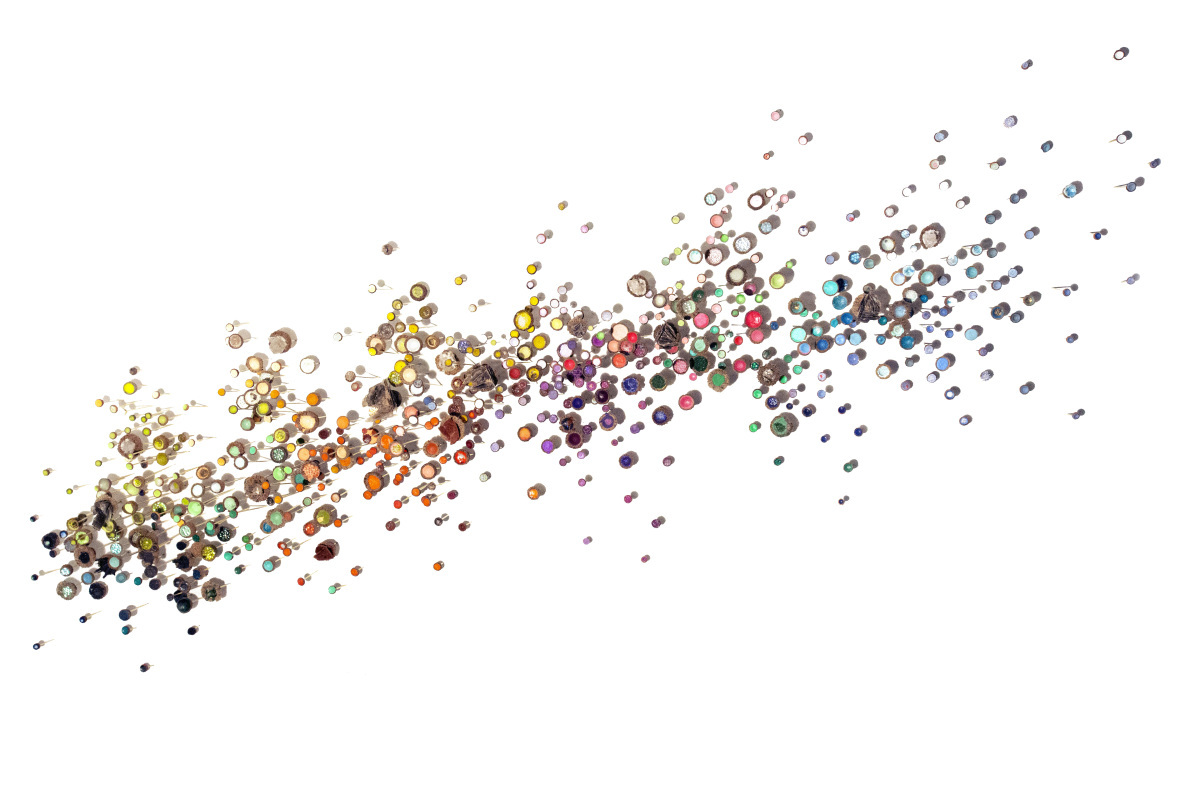 Symphony, 2022
acorn tops, acrylic paint, mica, crystal, garnet powder, glass, glitter, cyanite, brass rods, 114 x 36 x 8 inches, sold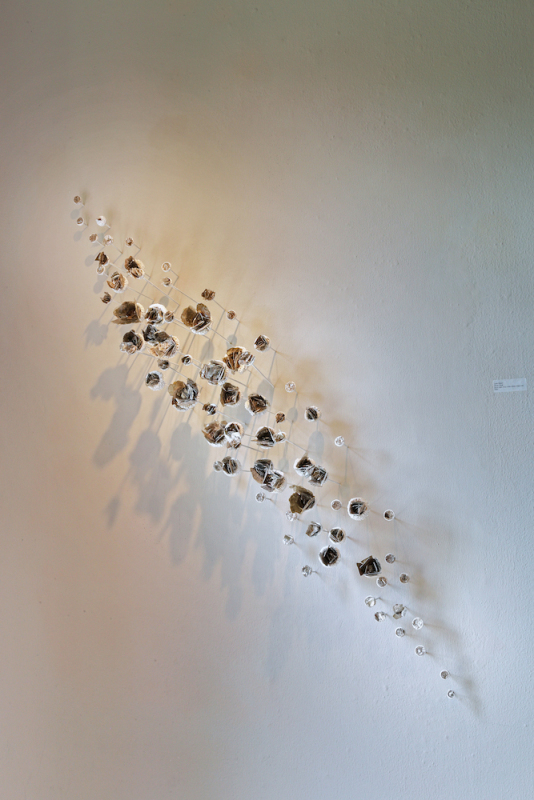 Silver Sliver, 2022
acorn tops, mica, white rubber, brass tubes, 54 x 14 x 10 inches, $6300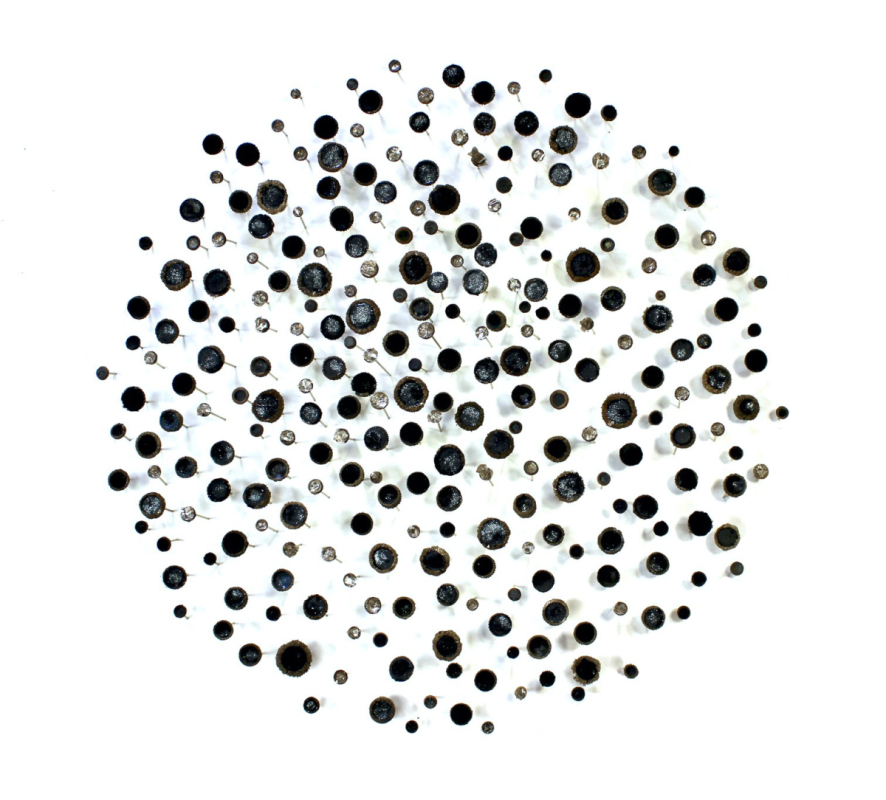 Night Sky, 2022
acorn tops, acrylic paint, mica, black magnum, tire rubber, glass, brass rods, 49 x 49 x 7 inches, $10500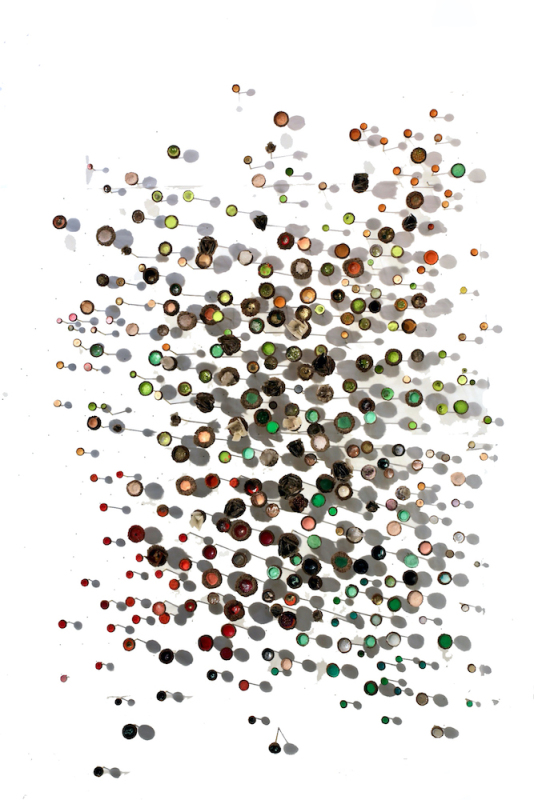 Desert Garden , 2022
acorn tops, acrylic paint, mica, capiz shell, crystals, glass, pyrite, garnet powder, brass rods, 74 x 40 x 6, sold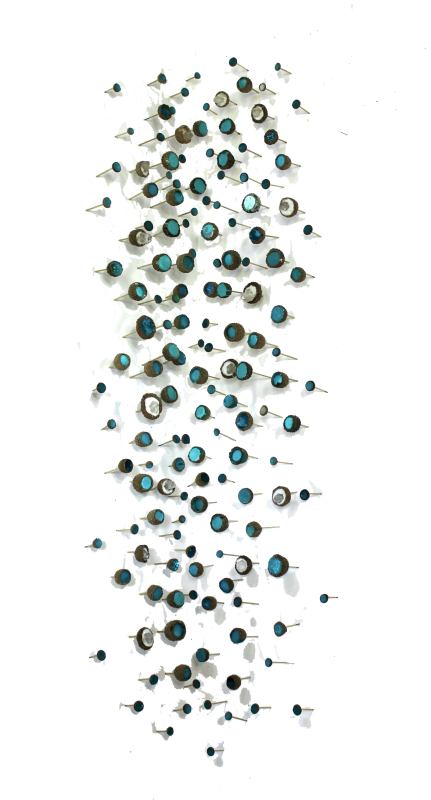 Crystal Blue , 2022
acorn tops, acrylic paint, crystals, glitter, glass, brass rods, 64 x 31 x 5 inches, $6825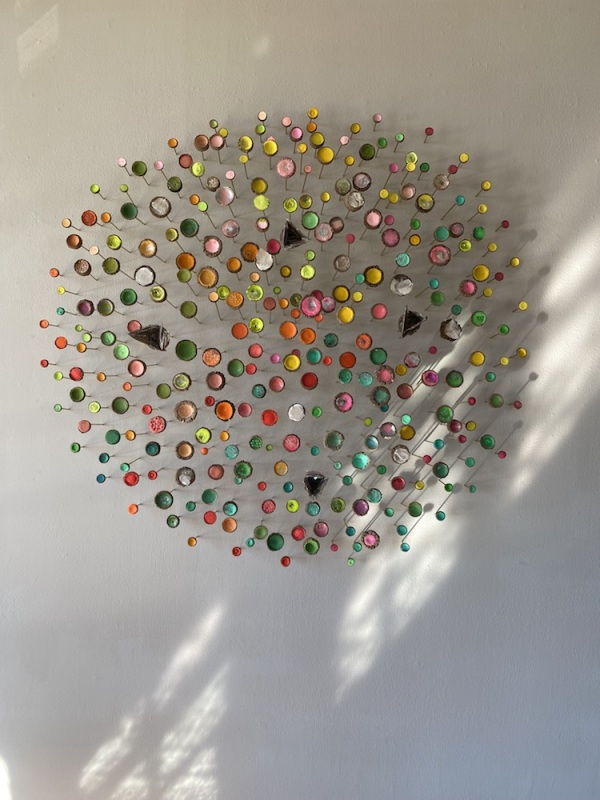 Abloom, 2022
acorn tops, capiz shell, mica, crystals, pyrite, acrylic, glass, brass rods, 42 inch diameter, sold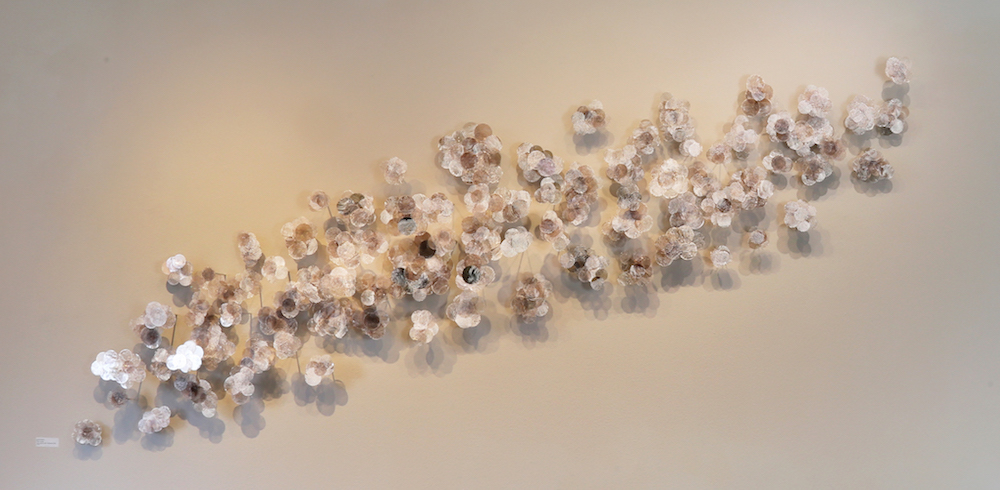 Silver Linings, 2020
mica, gesso, cork, aluminum rods, 82 x 42 x 6 inches, sold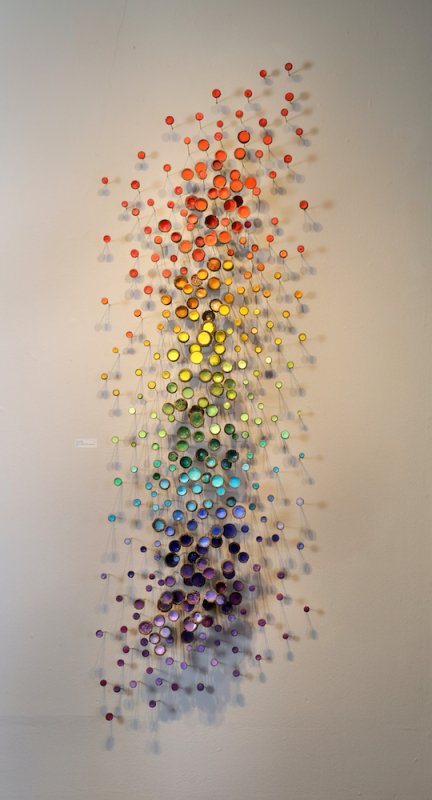 Rainbow Beam, 2020
acorn tops, glass, acrylic, brass rods, 79 x 26 x 10 inches, sold
Camouflage, 2022
acrylic, collaged canvas and fabric on unstretched canvas, 62 x 36 inches, sold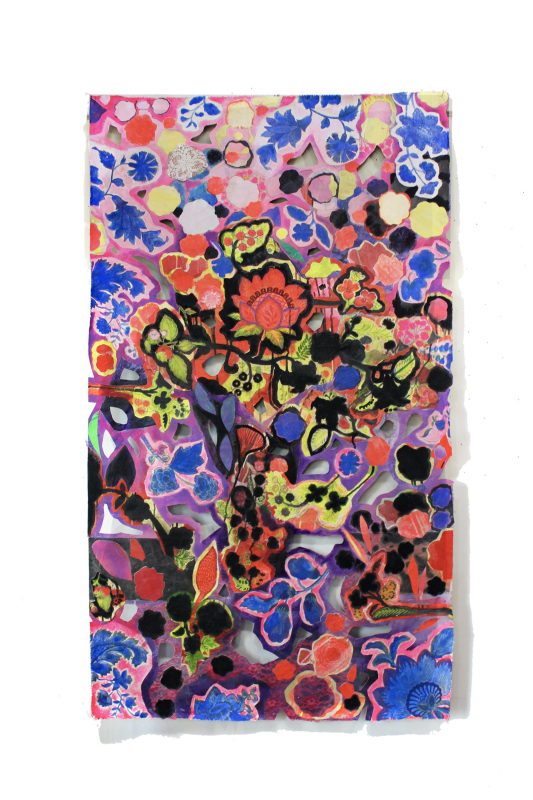 Midnight Garden, 2022
acrylic, fabric, collaged canvas on unstretched canvas, 62 x 36 inches, $4800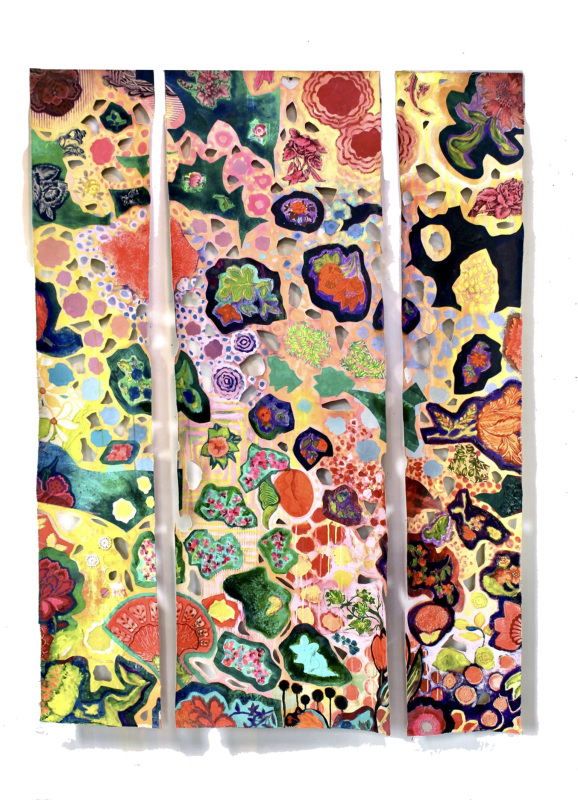 The Journey Begins, 2022
acrylic paint and fabric collage on unstretched canvas, 68 x 47 inches, sold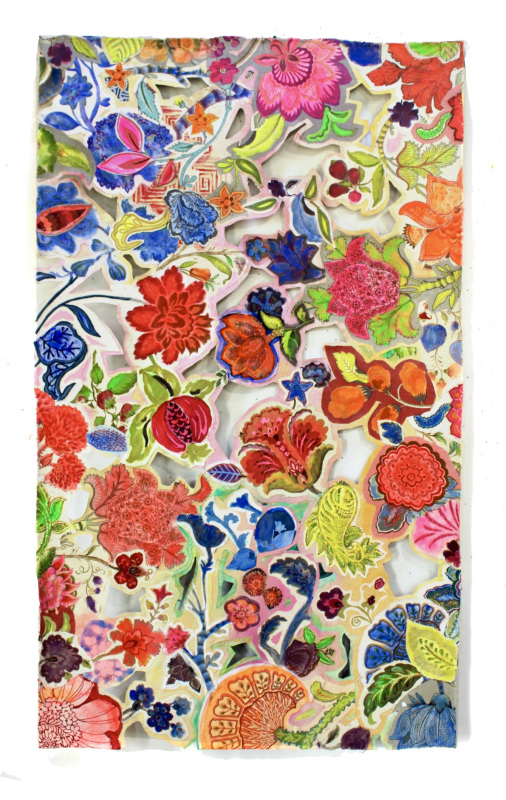 The Light Between, 2022
acrylic and fabric on unstretched canvas, 58 x 36 inches, $4500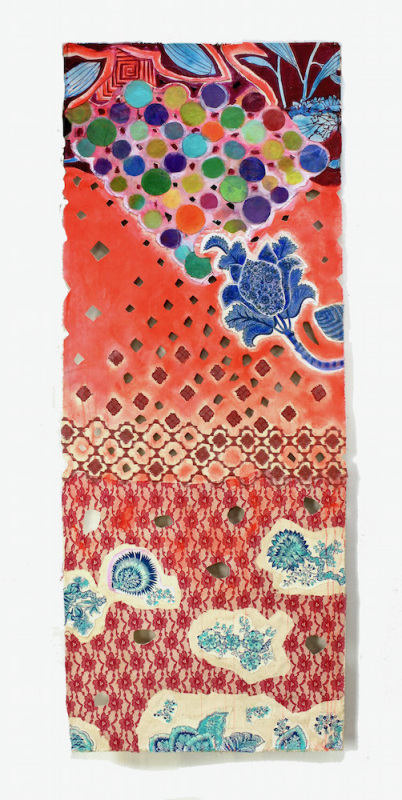 Archeology , 2022
acrylic, fabric and lace on unstretched canvas, 68 x 25 inches, sold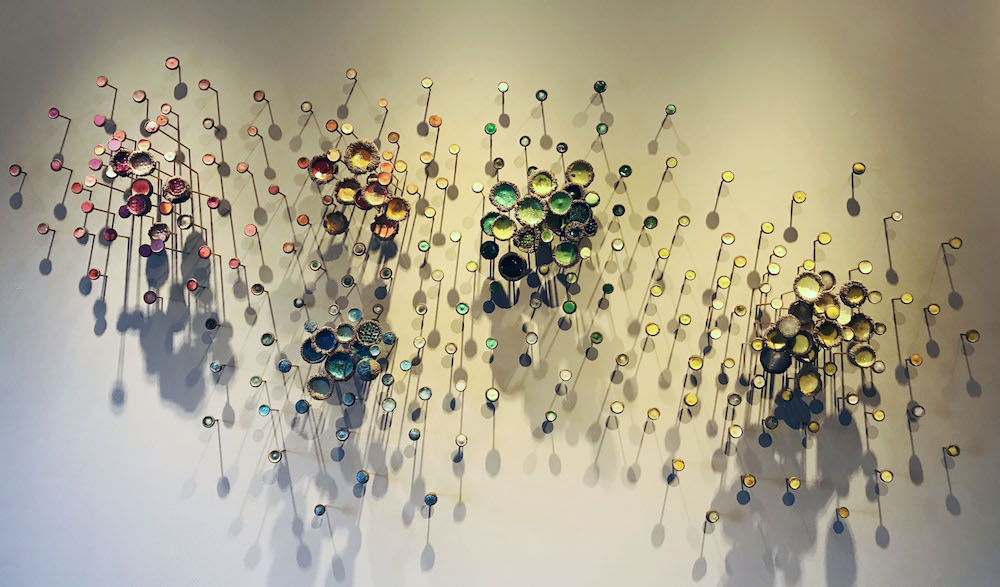 Botanica No. 2, 2018
acrylic paint, glass & mica in bur oak acorns mounted on brass rods, 36 x 70 inches, sold
About the artist...
View Maren's 2022 exhibtion walk-through and artist talk here.
Hear Julie speak about her work while touring her 2020 two-person show here.
Watch a short video of Julie installing one of her bur acorn pieces here.
Over the last few years, a desire to liberate my paintings from flat surfaces and right angles, led to my exploration of more fluid and multidimensional creative approaches, expanding my techniques, and embracing new materials. The internal schism between my painterly self, who layers pigment and imagery to create compositions, and my stone carving self, who destroys and removes material to reveal what is underneath has merged. Now I cut up my paintings with power tools in order to reconfigure them in larger collage-based works. I make large flexible sculptural installations that function as large paintings. I collaborate. I make ceramic plates.
My creative path has led me to work as a painter, stone carver, installation artist, ceramicist, textile designer and illustrator. As a fine artist, I have received major grants, attended multiple artist in residency programs and sculpture symposiums, and my artwork is in private and corporate collections. My paintings have been woven into textiles in the form of a signature series with the Smartwool company. I have illustrated two children's books: "Celia Cruz, Queen of Salsa" (Dial/Penguin, 2005) and "An Orange in January" (Dial/Penguin, 2007).
Visit artist's website - www.juliemaren.com