Calendar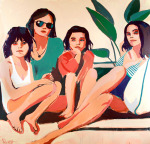 Patrick Puckett: Low Places
November 4 - November 25, 2017
Take a virtual tour of Puckett's show here.
Listen to Austin Art Talk's studio interview with Patrick here.
Puckett's large, bold canvases explore the human figure inspired by the artist's life in the American South and often include symbolic references of both real and imagined nostalgia. However narrative, his works stand ultimately on process and composition. Figures take a quieter place among the interaction of shape, color, texture and Puckett's confident paint application.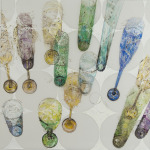 Group Show: LIGHT
December 2 - December 23, 2017
Opening Reception on Saturday, December 2 from 6 to 8pm
On Saturday, December 2nd, Wally Workman Gallery will open a group show with new works from over 30 of their artists based on the idea of light. Always evolving, this includes artists that have been with the gallery for decades as well as those that were just signed this year. Participating artists include local figurative painters Ian Shults and Honora Jacob as well as abstract artist Diana Greenberg and landscape painter Will Klemm.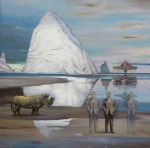 Juan Luis Jardí: Solo Show
January 6 - January 27, 2018
Opening Reception on Saturday, January 6 from 6 to 8pm
A mix of magic realism with certain influences of Pop Art and surrealism, Jardi's figures and themes illustrate the contrast is our lives and the doubts we are faced with as humans. He strives for his work to provoke feelings: nostalgia, melancholy, loneliness and a sense of uneasiness as well as feelings of euphoria and calm. Jardi's paintings offer a vintage perspective much like a trip into the past .
"Always both disquieting and attractive , the work of J.L. Jardí possesses an intense inner force; able to create a very special atmosphere, born of silence of technique, of space, of the absence of the figure even though it is often present. His characters are spectators who contemplate, while absorbed in thought, the reality that Jardí depicts. Stillness, space and the unknown. Perhaps what Jardí is painting is the future, what will happen; he creates a scene and poses a question. What path will events take ? Diverse possibilities are offered, but fate alone will decide. For now, we have the work´s inner power, always well wrought from a technical point of view."
-Joan S. LLop, Critic of Art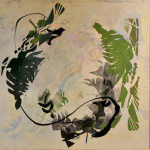 Group Show: Revi Meicler in our Upstairs Gallery
January 20 - February 10, 2018
Opening Reception on Saturday, January 20 from 6 to 8pm
Monoprints, mixed media paintings and sculpture by Revi Meicler. A part of PrintAustin.